Easy to Assemble
To build the model you only need some basic tools such as a screwdriver, a sharp knife, soldering iron and most importantly – a good mood.
Cheap and fast repairs
Did you break something? Don't worry, you'll have a reprinted spare part in no time. Then loosen a few screws and replace the damaged parts. And – drive again immediately!
3d print maximum, buy minimum
"Don't buy parts – just print them, nearly all!" You print most parts starting with bodywork, complete chassis and even cardan joints and gearbox. Buy just motor, radio control electronics, tires and shocks/springs – and you are ready for ride.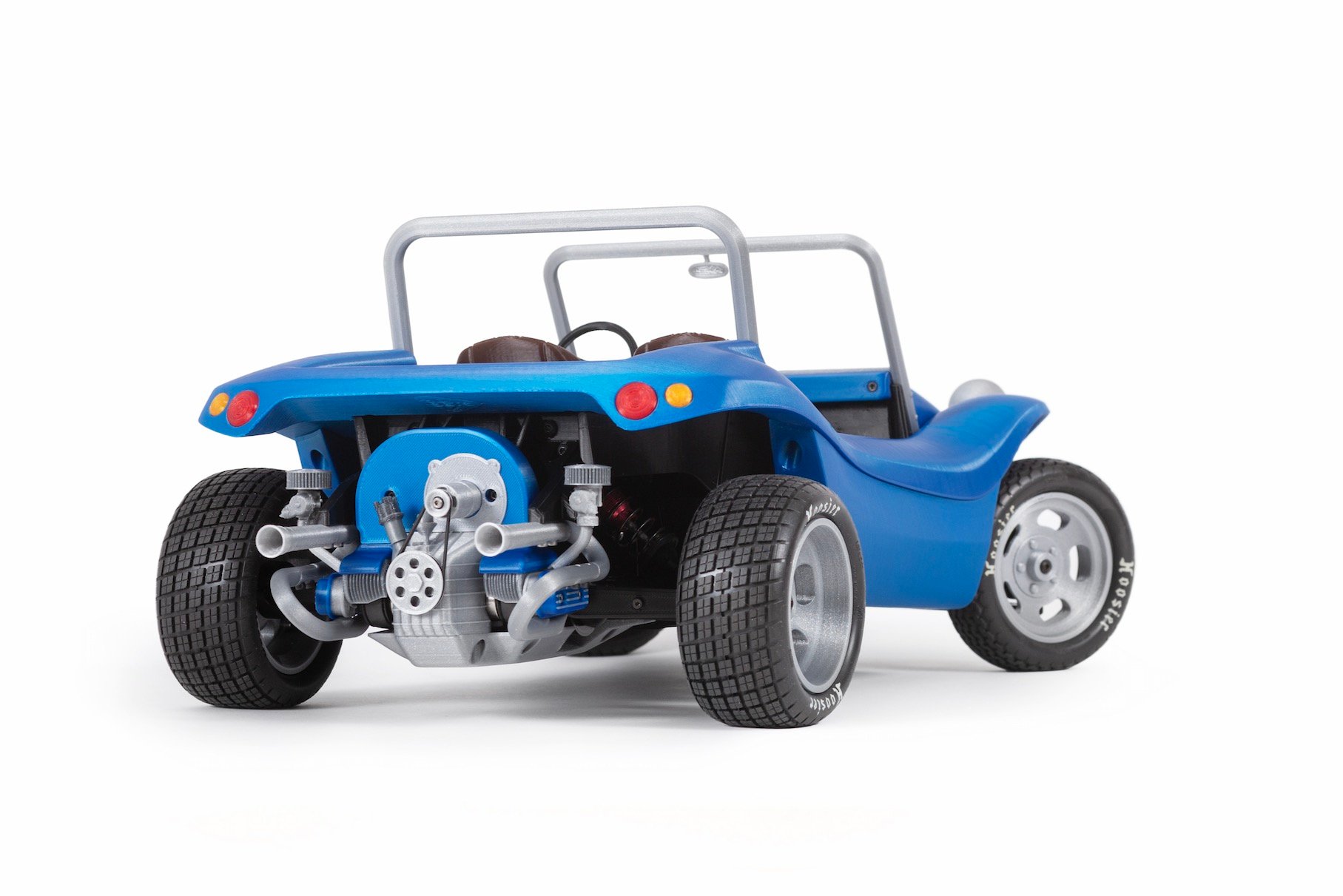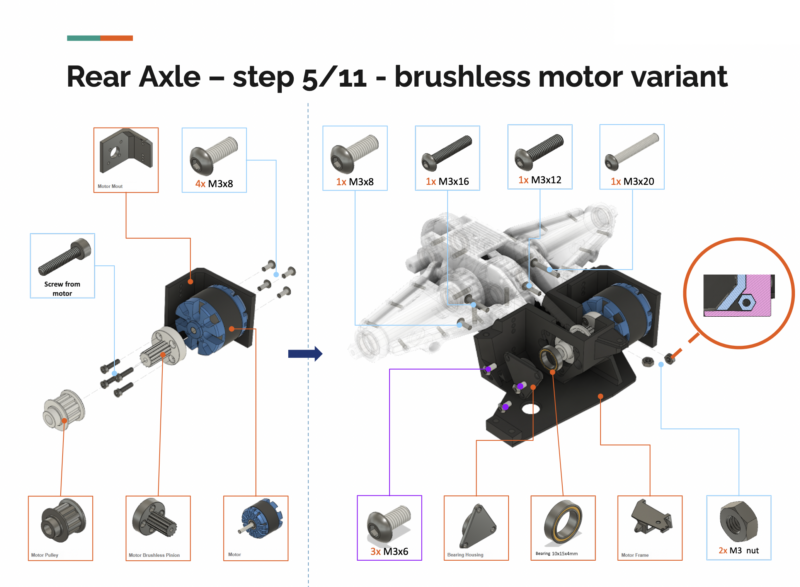 Step-by-step User Guide
Comprehensive Build Guide is available for free to anyone – lets go through before you buy the model. Build Guide include a complete bill of materials and links for online stores, when you can purchase non-printable parts.
"Build when you print" – you get not only the ready-made print plates but also the time-effective print sequence, so you can continue assembling while you printing and do not need to wait for the part you need.
3D Sets BeltDrive – the transmission solution is durable, simple, and quiet because it uses timing belts.
Differential – 3D Sets developed unique design of opened differential for best on-road capabilities. The differential is integrated right into the BeltDrive pulley and its special design doesn't require any metal shafts or other tiny parts – everything is done using standard bearings, used in every 3D Sets model.
HD Surface Details – this technique is used for incredibly fine surface structures of the seats.
Easy maintenance – the front and rear axles are attached with just a few screws and can be very easily removed from the model. An integral part of the rear axle is the transmission with engine and ESC – the entire drive system can be removed from the body in one movement.
Easy-to-disassemble – Metal nuts are now embedded for repeatedly disassembled or stressed joints. Removing the axles is now much more convenient.
Double Wishbone suspension – independently suspended front axle wheels with sophisticated wheel geometry. The axle is designed to work with 50-65 mm long shocks with short travel. The axle uses a system of fully printed 3D Sets ball joints and is optimized for higher impact resistance.
Highly detailed model of the engine – the engine covers the moving parts of the gearbox and it is possible to experiment with color by changing the filament during printing.
Innovative battery box with easy opening with rotary locks, easily accessible from the bottom of the model.
Many new details – e.g. realistic emboss on the inner parts of bodywork, interior trims, fuel tank in the trunk, and more.
What you get:
3d printing files: .stl and .gcode optimised for Prusa Mk2-3 and Prusa Mini printers, .stl for regular 3d printer with 20×20 cm bed size. The total download size is over 365 MB. Total printing time is about 10,5 days of continuous printing.
step-by-step build guide, available here
list of all non-printable items (like motor, tires, screws, etc.) with link to recommended online stores
What you will need:
any 18 x 18 cm (or bigger) 3D printer, Prusa i3 recommended

1.9 kg of PLA filament is needed for all parts, PC Blend for some specific parts.

bring your own motor/speed controller, servo, and battery
screws and nuts
set of bearings
set of rubber tires and shocks
How I get the purchased files?
after purchasing this digital product, you can download the printing files under "My Account" (in the "Downloads" section)